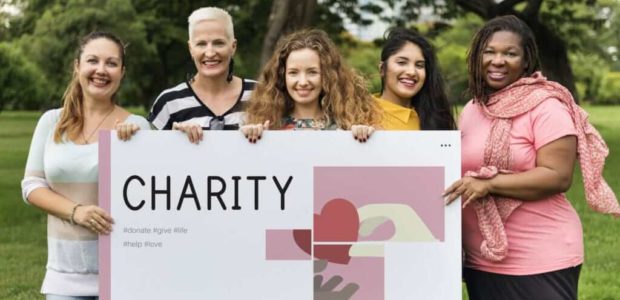 As a whole, regardless of income level, women are more likely than men to stand up and be the resolution to all sorts of problems befalling the world, societal or otherwise. A woman's views on giving is an extension of her natural sense of nurturing.
For men giving is more obligatory or a sense of self. It needs to be for a cause within the community where he can show a sense of his pride or have a way to maintain his status quo. Men tend to think more logically.
Scientists feel this is strictly based on the striatum in the male and female brains that for the female produces a much greater response when sharing than it does for men. It gives off a much bigger reward response for women from this part of the brain than there is for men. According to the scientists, women's brains just basically are more gratified by giving than a man's brain. Women are the most likely to participate in a prosocial behavior than a man or a boy would, and a woman is also much more likely to give to a charity than a man would.
Women will also give impulsively to someone, e.g. a homeless person on the street with a sign saying they are hungry. As a means to solve that person's immediate issue of needing to get something to eat, a woman will hand them money. Men will look at the situation, analyze it, think about it logically, generally feel this person is scamming and end up not giving to that person.
Most women's charitable donations have a purpose. They want to solve a problem. They want to make an impact or give back. You will see them finding cures for diseases, helping expand opportunities for women and girls, protecting or preserving the environment, giving access to proper healthcare and nutrition. Men don't look at the issues in the same way. A smaller percentage of men are giving to causes of this nature.
Researchers find this to be because women are to be are known to be much more selfless and have much more empathy than a man does based on the way that women have been socialized. They are prone to be more caring and they are automatically the one to self-sacrifice as well as sense and do something for the well being of those around her. Men, they say, are simply not wired in the same way.
Women indicate that the motivation they have in giving to meaningful causes where there will be an impact is in order that they can help to bring about societal growth and changes around them. They want to make differences in their world especially the young women coming up today. That is one of their main focuses in giving. They want to make it so they can uplift and empower other women around them, further enhance the growth and influence that women have in the world. That is their goal and they also want to fix the environment around them.
Researchers have further noted that women have worked diligently to find their place in the business world and, even though they have not found themselves on an equal pay scale yet, they want to see the effects of what their labor can do in the world.
Women are motivated much more differently than men. They go on passion, faith and with gratitude. Men see things as providing, doing what they need to do, accomplishing what they're supposed to.
Each sex views money in completely differing ways. A man sees wealth as power or his achievement or even prestige. A woman views her wealth as freedom or independence, a sense of personal security, her own way to meet a set of goals. A woman is way more likely than a man to feel as though giving of herself is the most gratifying part of having her wealth. Men would not view wealth in that way. Women see success as being able to be generous while men view success as having wealth and power.
Scientists find that women are also living much longer than men upwards of almost five years longer. They are getting to determine where the family money will go as far as the assets and the wealth whether it will go to family or charitable organizations or both. Just about half of all of the charitable bequests for those that are aged fifty-five and over are being made by unmarried women whether they have been left as widow or were never married or maybe were divorced.
It seems that researchers feel the charitable organizations should approach the male and female population on differing levels in order to appeal for gifts. In order to reach the man, they need to appeal to his sense of the community and how giving to their organization will accomplish that, reach him on a logical level, his sense of pride for his local area. For the female, they need to be the kind of organization that is in some way benefiting the world or society in a good, healthy, proper way.
Generally, there is a basic social supposition that women will be givers. In a sense, it seems that men are aware of that as well. Men get a bit of a bad rap. There are men who give just as much as women and give for the same reasons as women do. It's just as a whole and on average, as a group, men don't think in the same way or on the same terms as women do on the sharing side of life. They prefer their giving to have an objective, a goal not a purpose. There is a definite difference. One is more business oriented and one is more social oriented. A man definitely thinks in terms of the business of the world and a woman thinks in terms of solving the business of the world. Therein lies the basic differences between the two genders.